Please read FAQs below for your guidance:
How do we place our orders?
We will send you the order form right after you have gone through our application process. You will send your first order inquiry to marketing@mdgruppe.com.
Here's a quick check of the process: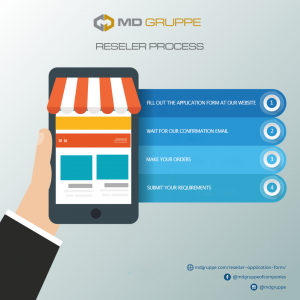 How do we settle the payment for our orders?
There are 4 brands in our catalog: RytStorage, MetaHome, Cutting Edge Home Solutions, and BenBed. They are manufactured by 4 different business units under MD Gruppe which means order payments shall need to be deposited into their own bank accounts under the corporation names of Rytek International Marketing Corporation, MD RTG Sheet Metal Fabrication Inc., Cutting Edge Materials Processing Corporation, and Greenergy Ventures Corporation in respective order.
Once we have received the first order, you will receive an email from our sales representative and they shall give you the price quotation and company bank details.
What is the minimum quantity per product to sell?
There is no minimum order quantity for you to avail our products and sell. In the price list that we will give you after going through the application process, you will see that there is a 10% to 13% discount when you avail the suggested order quantity per SKU.
How is the product delivered? Is delivery direct to our client?  Is there a minimum quantity of the product before it gets delivered?
Our prices are pick-up price only. We do not deliver to our customers. But the good thing is, you may coordinate to our sales representative your pickup details using any trusted 3rd party logistics provider from Metro Manila. Just inform us ahead of time the name of the driver, plate number, and date and time of the pick up.
How do we avail of the reseller price?
Our products are available in their Suggested Retail Prices. We allow you to gross up the price to get your required margin and earn. You can get a 10% to 13% discount when you will avail suggested order quantity per SKU stated in the price list to be given to you.