No contractor should feel small and inadequate. Let's win your Dream Project now!
We are your metal fabrication partner. We cater to all sizes, to anyone.
Who said only contractors with existing HUGE Capital investments in fabrication facilities are capable of bidding on Dream Projects? We are here to solve your uncertainties:
b. Uncertain Lead time / Delivery Expectation
d. Uncertain Results/Output -> You can bank on 32 years of experience
e. Uncertain Care and Attention to Customer Experience
Have you encountered project delays simply because of your custom fabrication needs? Over budget because you're asking for the job from the wrong supplier? Why not leave it to the professionals? We are your one-stop shop for custom metal fabrication on-demand. Save on time, save on cost. We got you.

Reliable Support
No job or project is too small or too big. You can expect nothing less than a "Wow" experience through highly experienced frontliners dedicated to serving your needs. Our 32 years of experience can assure that we are capable of solving your metal fabrication problems through our experienced and skilled fabricators.
Lowest Cost
We only use and recommend the most appropriate process using the latest technology best suited for the job to be done, by clearly understanding the function and final use. The appropriate process means that only the necessary process operations/service will be recommended, removing what is not required for the job and function of the item to reduce all unnecessary costs to build the part/product and complete the project.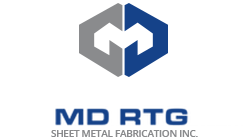 No more bullying! BIG BROTHER is here to fight with you! No need to feel SMALL and INADEQUATE! We will be your guide. We've been there, we understand your pain and struggles. We want to see you grow and become your best self!
Over 30+ years of experience.
Local and International Clients serviced across several industries.
Pioneers in the local fabrication industry.
How we'll start building you project
You're a few steps away in completing your project according to your plan and time!
1. Request a quote/consultation.
3. Get your project rolling.
Who we are
RTG Sheet Metal Works was established in 1989, in Aurora Boulevard Pasay City, Philippines. It started out as a retail outlet selling construction supplies and providing basic sheet metal cutting and bending services.
On September of 2003, it was incorporated to become RTG Sheet Metal Works Corporation.
On January 2015, it was renamed to what is known today as MD RTG Sheet Metal Fabrication Inc. Under this new corporate identity and leadership, it now redirected its focus and concentrated its efforts to become a fully dedicated sheet metal processing center, specializing in customized sheet metal fabrication services that are geared towards the retail fabrication. Borne from this expertise is the SaniStation line of foot bath trays and alcohol stands— products that served countless businesses and homes during the COVID-19 Pandemic. 
We support various industries such as construction, food servicing industries, advertising, furniture and appliances manufacturers for local and international clients. Our services include laser cutting capabilities such as metal fabrication, cutting, punching, bending, welding, powder coating, CAD design, prototyping, hairlining and finishing.
WORK WITH US!
Do you have a personalized metal project or product in mind? Send us your specifications so we can provide you a quote.