Why cleaning the air is just as essential as cleaning your hands
While not exactly severe as other coronaviruses (as well as other viruses), COVID-19 still is a highly infectious disease. Albeit not completely lethal to everyone, it could be to people with weakened immune systems and pre-existing conditions. 
COVID-19 is not as lethal as SARS or EBOLA or even ZIKA but it can not be underestimated. It has caused entire economies to shut down, whole industries to close its doors and populations to shutter themselves in.
The dangers of COVID-19 have got us rummaging through a variety of sanitation methods and products that can help protect us from all the surfaces that might potentially infect us.
While a lot of people look to Rubbing Alcohols and Hand Sanitizers, these liquid agents can only do so much. These can't protect us from another crucial component in COVID-19 transmission: tainted air.
According to WHO, Airborne transmission of SARS-CoV-2 can occur  during events that generate aerosols. According to WHO as well, they, together with the scientific community, "have been actively discussing and evaluating whether SARS-CoV-2 may also spread through aerosols in the absence of aerosol generating procedures, particularly in indoor settings with poor ventilation".
This begs the question, how can you protect yourself from aerosols?
The best way we know how, with Aerosols too.
Fogging and misting are ways we have adapted to keep our internal environments safe apart from HVAC and air purifying systems. It should be noted though that fogging and misting should be supplementary to manual cleaning. Solid surface disinfection and air cleaning are essential to help mitigate contamination problems we may have in our settings.
Sanitation brand SaniStation has formulated an affordable and effective way to disinfect small spaces with the Disinfecting Electrolyzed Anolyte Solution that comes with a nano mist sprayer. It acts like a mini fogging machine, dispersing droplets, typically less than 10 µm in size, in the air. The Disinfecting Anolyte solution is made of Hypochlorous Acid (or HOCl), nature's germ killer. HOCl is proven to be effective against all known pathogens and is used widely in medical facilities  and laboratories.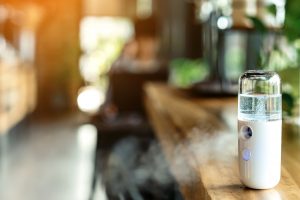 Using HOCl in the misting process can control infection and  can prevent microbial surface contamination on various surfaces the droplets settle on. Misting is an easy and effective way to keep viruses at bay, one step further than just washing your hands.